Goodbye 2022, Hello 2023
The Get Goalside newsletter looks ahead to what 2023 might bring football analytics
Hello to you, dear reader, and hello to the oncoming 2023.
2022 was a year. England won the women's Euros, that was fun. Real Madrid pulled off some incredible Real Madrid-ing in the men's Champions League. Get Goalside reached 100 posts.
Back at the start of the year, I sent out some thoughts on what 2022 might bring in the world of analytics. It was hit and miss: definitely a year where data engineering got more of a spotlight, not one where clubs started using analytics as meaningless buzzwords.
Instead of predictions then, here are some general 'things on my mind going into 2023'.
Football analytics jobs conceived of as an entire ecosystem
Jobs around football data have always been more than just clubs. That said, 'how do I get a job in football analytics' tends to implicitly be asking about club football. It's then up to the person answering to point out other things.
I don't know if this'll ever completely change, but I think the wider football data ecosystem is broadening out, and that might mean people aren't quite so focussed on club jobs. You have jobs at data providers (of all types); multi-club organisations, where you're not tied to a specific team; player agency or management businesses; national associations; media outlets; consultancies; product-building companies.
There are far more clubs than these non-club entities, but all of the above sectors are likely to grow, at least a little bit, in terms of either number of hires or number of companies.
Set-pieces
This probably should have been a 2022 thing. Set-piece design is definitely mainstream now (in the Premier League at least).
An early draft of a thought: Will set-piece design change our idea of aerial ability like cut-backs and xG changed the conversation around 'finishing ability'?
But a warning: I already watch NFL, let's not turn this football into set-play-ball too, ok?
Skeletal data
We're now in a world where not just tracking data (Football Manager 2D mode) but also skeletal data (Football Manager 3D mode) is becoming a bit of a standard in some competitions too. You'll have seen it in TV broadcasts for offside calls, including what I guess you could deem a booty call in the World Cup final.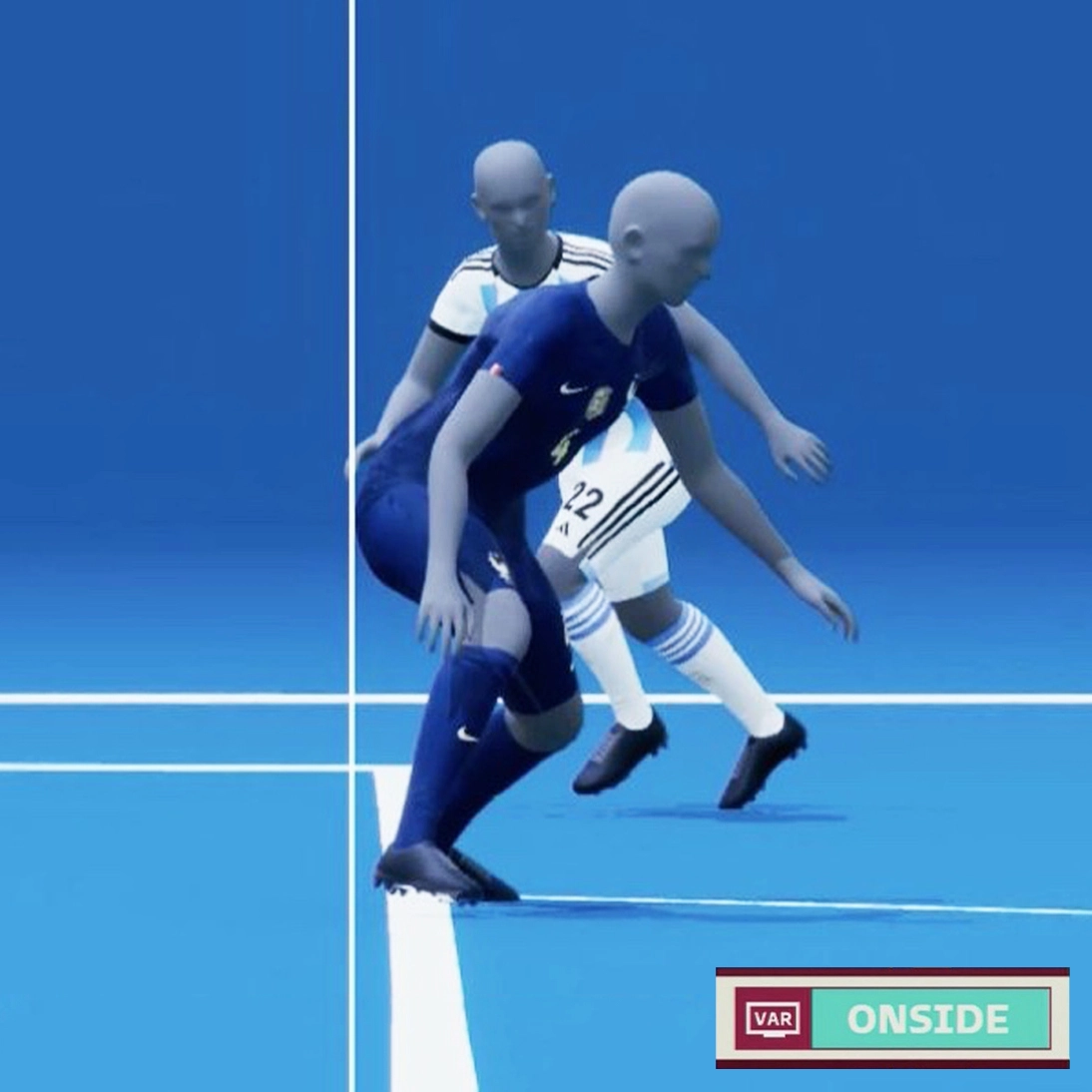 We're a long way from it being widely used, I think, partly because time is limited at clubs, there's not much data out there for 'the community' to have a go with, and the file sizes must be ginormous with accompanying increases in skills required.
If you're interested in this area though, Driveline Baseball's OpenBiomechanics project might be worth checking out. I'm not sure how much of the insights across the two sports will be transferable, or how similar the data is to football skeletal data, but where anything in the same ballpark will be available.
I'm aware that this skews heavily towards analytics at the top end of the game - let me know what it's like at other levels if you work elsewhere!
Sideline data
I forget where and how much this is allowed in various competitions, but it seems like The Next Thing.
A lot of other things in analytics have been 'data people going into football', but I imagine that this would be more 'football people picking up data'. This is partly because I think in-match analysis requires more domain knowledge than other areas of work. Elsewhere, a large part of data's use is in distilling information that is too widespread and multitudinous for a person to grasp; in-game there's less that needs distilling, more that needs expert interpretation.
Maybe they could put some of these suggestions into action.
Global game, global analysis
Three pieces of media towards the end of 2022 focused my mind on how England/US-centric a lot of analytics history (or the analytics history that is told in English) is. There might be a money-plus-Moneyball reason for this being the case, but my current feeling is that things are going to be different moving forwards.
In some ways, I think the pandemic accelerated this: it may be correlation and not causation, but having to hold analytics conferences virtually seemed to expand options and the geographic pool of presenters.
But as well as that, and StatsBomb releasing a free Indian Super League dataset, there are concerted efforts in non-Anglo countries that will probably bear fruit in a noticeable way soon. Spain has LaLiga tech, the make-up and quantity of analysts at Ligue 1 clubs intrigues me (Skill Corner, a fairly established company now, is French, as is Footovision, one of only two FIFA-accredited broadcast tracking data systems).
This is an area I'm lacking a lot of knowledge on so please get in touch if you know stuff.
Ethics in analytics
Analytics often has the objective of optimising things and making them efficient, but it's worth considering what is being optimised for and what is considered expendable in the pursuit of that optimisation.
One method of optimising an allocation of resources is the multi-club ownership (MCO) model. Big fashion trend, and also some of the most interesting-sounding analytics work out there. Hey, I'm not MCO-ist, some of my best friends are MCOs. Maybe multi-club ownership isn't intrinsically bad. Is consolidating ownership of football clubs in the hands of a smaller group of owners worse than whatever system we had before? What are the xSocialGood levels?
(A related thing that I found to be an amusing coincidence, although multi-club ownership is not the cause of what happened, the recent Melbourne derby that got postponed because of crowd trouble was also a clash between two MCOs, City Football Group and 777 Partners (reporting suggests 777 only have a minority stake in the Victory unlike CFG who outright own Melbourne City))
Finally, for some work on something else I found myself reading about Leeds United's measurement of player weight and body fat levels under Marcelo Bielsa. [Content note on the next five paragraphs for eating disorders]
I'd like to pair a quote from an article about it from The Athletic, with this introduction to a piece on the Women in Football website:
"We were weighed every day and sent to fat club. You got on the scales daily and someone would just say you needed to go and do more sessions or not." – Claire Rafferty on how football fuelled her disordered eating.
Now the Athletic quote:
The reason it works, as one employee at Elland Road put it, is that there is nowhere to hide. Bielsa has his squad weighed and monitored for body fat-levels every morning. They do daily skinfold tests and the results expose the smallest of excesses (one player was panicking on his return from holiday after putting on a quarter of a kilogramme in Dubai).
I don't know to what degree Leeds' methods, and those like it, cause or exacerbate eating disorders or disordered eating. One study cited in a PFA article on eating disorders found that, in their sample of Norwegian elite athletes, eating disorders were three times more common than in the general population. However, I think it's one example of where data and the pursuit of it could be more mindful of its effects on the individuals being monitored.
-
I hope that 2023 brings good things to you all, and a great women's World Cup in June/July. Get in touch at getgoalside.newsletter@gmail.com if you have any thoughts on my topics here, any things I might have missed off, or just to say hello.
Happy New Year
---
Thank you for reading - if you enjoy the work of Get Goalside you can become a paying supporter to help keep the show on the road